One by one people were walking in with a big flag in their hands. Every flag represented a nation and with shouts of joy and applause, we welcomed them in. It was a welcome night to open our new semester, a few months ago before the COVID-19 changed the world. Despite the global pandemic, we keep celebrating the nations as YWAM San Jose. We still form a group of people on base from different cultures and we're looking forward to more people coming in the next few years.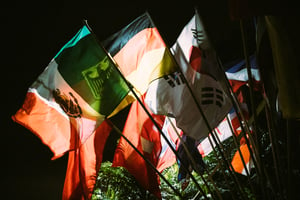 Cultures make your time in YWAM unique for many reasons. You will get to know people from all over the world and will learn about them. Their traditions, ways of thinking, food, and language. At YWAM San José we are bilingual. All meetings and classes are translated from Spanish to English and vice versa. Even if you speak only one of those two, you will always improve the other just by listening and through the contact you have with people in the community. In addition to living in an international community and making friends for life, you can learn words of many languages that you have never heard.
Because you live close to people and maybe even share a room with some of them, this also means that you will be challenged. We have our own personalities and backgrounds, culture also makes a difference in the way people live and react to circumstances. The way of thinking depends a lot on where we comes from. In some countries, people can be reserved or very direct. They have different values and it can also be difficult to express yourself in another language, which can lead to misunderstandings. Sometimes we have to apologize and forgive to get closer, but you will learn a lot from other people in important ways. God uses these challenges to teach us how to accept and love ourselves as we are. You will learn how God created each culture in his own way and you will see the beauty in each one of them.
Besides that, you will also be more aware of your own culture. Other people can be like a mirror to you and you will learn to appreciate your own culture more. Each of them has unique gifts that God uses to build their culture at our YWAM base; a culture based on the Kingdom of God with biblical principles, and the Father, the Son, and the Holy Spirit as our center. We celebrate our nations as our Creator does!
Are you ready for an experience surrounded by different cultures? Send us a message and let us know how you can get involved. We are excited to welcome you to our community!